Fall Membership Drive

A special thanks to those who joined the Friends of alt+library in May! You've got another chance to win awesome prizes while helping your Friends September 22-October 1:
1. Go to http://conta.cc/18cBWhz and join alt+library Friends
2. Email a copy of your receipt to altlibraryfriends@gmail.com
3. One winner will be chosen at random on October 2.
Results
President – Meg Dana
Vice President – Monica Barba
Treasurer – Lia Moore
Communications  - Lindsay Oxford
Secretary – Sarah Kerber
alt+library=friends
What we do:
It's pretty simple: we raise money for alt+library programs. We think alt+library is already pretty awesome, but with a little more funding we're hoping to see more and better alt+library events. Through online book sales, membership drives, and some less traditional means (like the "cheats" we sold at the Spelling Bee), we're supporting all the fun, free, and unique programs that alt+library delivers.
We need your help!
Become a friend!
You can apply for membership online here. Simply fill in your information and select AltLibrary as your branch.
Or, apply for membership by mail: fill in this form and mail to the address below.
When you become a friend of alt+library, you get the all these benefits:
Between Friends Newsletter (6 x year)
All Friends Monthly Calendar
Insider News & Advocacy Alerts
Members-only preview sales
10% discount at books sales
Plus invitations to exclusive alt+library friends events
Please make checks payable to Friends of SPL and mail with application to:
Friends of the Sacramento Public Library 828 I Street Sacramento CA 95814  
Show your love: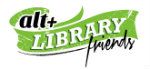 A handy, dandy button for your blog or website.