alt+library friends is actively seeking new board members and volunteers!

Love alt+library and want to support its programs?

Become a friend!
You can apply for membership online here. Simply fill in your information and select AltLibrary as your branch.
Or, apply for membership by mail: fill in this form and mail to the address below.
When you become a friend of alt+library, you get the all these benefits:
Between Friends Newsletter (6 x year)
All Friends Monthly Calendar
Insider News & Advocacy Alerts
Members-only preview sales
10% discount at books sales
Plus invitations to exclusive alt+library friends events
Please make checks payable to Friends of SPL and mail with application to:
Friends of the Sacramento Public Library 828 I Street Sacramento CA 95814  
Show your love: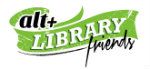 A handy, dandy button for your blog or website.